Who is Helena?
Helena Domenic is an Elder in the Assembly of the Sacred Wheel. Helena has belonged to three covens within the Assembly previously, and served as High Priestess in two, Oak and Willow and Weavers of the Moonfire. She is very happy to have formed the eighth coven in the Assembly, The Chalice of Living Stars.
Helena was born in Italy, where she developed an eye for beauty, art and the magical early in life. An accomplished artist, Helena's art has been exhibited around the United States and abroad. Her specialties are Tarot, Qabala, and Art and the Sacred, and African art. In day to day life, Helena is a Professor of Art at Cheyney University of Pennsylvania, where she teaches Art History, African Art, and an assortment of drawing and painting classes. Helena has also taught at Sacred Space, Ecumenicon, Etheracon, Akashacon, Morgan's Cauldron, Rutgers University, The University of the Arts, and a variety of other venues. Helena has a BFA in Painting from Kutztown University of Pennsylvania, an MA from The University of the Arts, and received her MFA in Interdisciplinary Arts at Goddard College.
Helena currently lives in Chester County, Pa with her husband and three ornery cats.
Helena's art can be seen at: Myth and Wonder.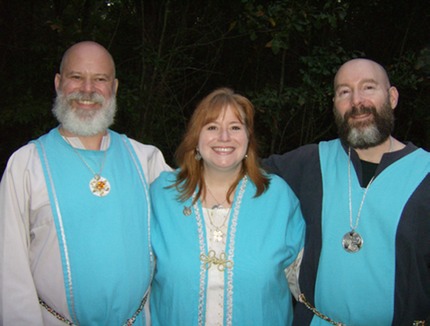 Helena with fellow elders Michael Smith and Ivo Dominguez, Jr.